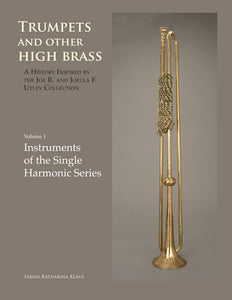 Book: Trumpets and Other High Brass: Volume 1, Instruments of Single Harmonic Series
Note; European customers must order from Edition Walhall 
http://www.edition-walhall.de/en/Brass-Instruments/Trumpet/Klaus-Sabine-Trumpets-and-Other-High-Brass-Instruments-of-the-Single-Harmonic-Series-Vol.-1-.html
Trumpets and Other High Brass:  A History Inspired by The Joe R. and Joella F. Utley Collection
Volume 1:  Instruments of the Single Harmonic Series by Sabine Katharina Klaus (2012)
Trumpets and Other High Brass is a series of five projected volumes, illustrated with instruments from the Utley Collection at the National Music Museum and other major collections.
Available only in hardcover, Volume 1 includes 358 pages in an 8-1/2" x 11" format and features more than 800 illustrations in full color. The book is accompanied by a DVD with illustrative musical examples performed on instruments from the Utley Collection.
Volume 1 traces the development of high brass instruments without valves or keys from antiquity through the 20th-century Baroque trumpet revival. It covers ethnic instruments from many cultures, the emergence of the trumpet in Europe and dominant designs of the 16th through 18th centuries. The inclusion of military and signal trumpets, bugles, and such oddities as bicycle bugles and walking-stick trumpets enhances an already rich survey. 
Joe R. and Joella F. Utley Collection was assembled over the course of nearly half a century by Dr. Joe R. Utley (1935-2001) and includes more than 600 instruments from around the world. Together they tell the story of the trumpet and related brass across three hundred years. The collection was generously donated to the National Music Museum in 1999.
The author, Sabine Katharina Klaus, is the first Joe R. and Joella F. Utley Curator of Brass Instruments at the National Music Museum (1999). Prior to this appointment, Klaus worked at several major musical instrument collections in Europe and the U.S. Klaus's research is internationally recognized through numerous publications on topics relating to historical keyboards and brass instruments.
Also available:
Volume 2: Ways to Expand the Harmonic Series (2013) presents the slide trumpet, the cornetto and serpent, the keyed trumpet, and the keyed bugle.
Volume 3:  Valves Evolve (2017) includes an overview of the many varieties of valves developed in the 19th century. 
Future volumes:
Volume 4:  Heyday of the Cornet explores the riches of cornet design and evolution.
Volume 5:  The Modern Trumpet discusses twentieth-century trumpet development.
---
We Also Recommend