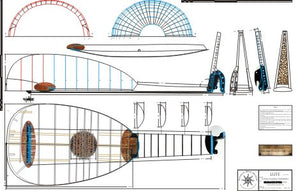 Technical Drawing: Lute, ca. 1600 by Tieffenbrucker with modifications by Thomas Edlinger, Prague 1724, two printed labels (Tieffenbrucker and Edlinger, 1724)
Technical drawing of a lute attributed to the Tieffenbrucker Family, Padua, ca. 1600, modified by Thomas Edlinger, Prague, 1724.
Ex coll.: Carl Des Fours Walderode, Hrubý Rohozec Castle, Bohemia (Czech Republic).
Purchase funds gift of Margaret Ann Everist, Sioux City, Iowa, 2002.  NMM 10214.
Full-scale technical
drawing in color.
Drawing and photography for the NMM by Jonathan Santa Maria Bouquet, Mexico City, 2009.
Note:  Technical drawings are custom-printed to order.  Please allow 2 weeks for fulfillment of your order.
PDF versions of technical drawings will be sent via a Hightail Dropbox within 5 business days. 
Purchase of this item in digital (PDF) or print format obligates the customer to observe the NMM's "Terms and Conditions for Technical Drawings," as follows:
Technical drawings may be used for research purposes, for display, and/or to produce replicas of the instruments in the NMM's collections.
None of the technical drawings themselves, whether in print or PDF format, may be copied, re-distributed, circulated, re-transmitted, modified or posted on the internet, in print, or elsewhere in any form without written permission from the National Music Museum.
The concept, design, photography, trademarks, and original artwork used in the creation of all technical drawings distributed by the National Music Museum (NMM) are property of the NMM, and are protected by copyright and trademark laws and may be covered by other restrictions.  
The NMM retains all rights in these drawings, including copyright, data, images, documentation, text, and other information.
The technical drawings depict objects from the NMM's collection in a manner expressing the scholarly and aesthetic views of the NMM and the creators of the drawings, which were produced on behalf of the NMM.
---
We Also Recommend