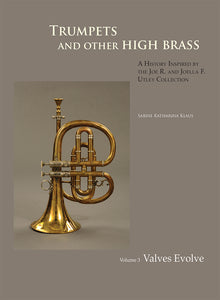 Book: Trumpets and Other High Brass: Volume 3, Valves Evolve
Note; European customers must order from Edition Walhall 
http://www.edition-walhall.de/en/brass-instruments/trumpet/klaus-sabine-trumpets-other-high-brass-instruments-of-single-harmonic-series-vol-3-the-development-of-valves-brasswind-instruments.html
NEW!
Trumpets and Other High Brass:  A History Inspired by The Joe R. and Joella F. Utley Collection
Volume 3: Valves Evolve by Sabine Katharina Klaus (2017)
Trumpets and Other High Brass is a series of five projected volumes, illustrated with instruments from the Utley Collection at the National Music Museum and other major collections.
Available only in hardcover, Volume 3 includes 409 pages in an 8-1/2" x 11" format and features more than 800 illustrations in full color. The book is accompanied by a DVD with illustrative musical examples performed on instruments from the Utley Collection.
Volume 3 explores and documents the invention and development of valves, from the late eighteenth century to the early twentieth century. The history of all important valve types (with the exclusion of the modern piston valve) and their use in various instrument types is covered. The disputes that led to the first joint patent for valves on brass instruments in 1818, between the two earliest protagonists, Heinrich Stölzel and Friedrich Blühmel, are investigated directly from key documents (transcribed in German and translated into English).
Like Klaus's first two Trumpets and Other High Brass volumes, the third is based primarily on the extraordinary Utley Collection of the National Music Museum, for which she is the curator. The book series also includes examples from other collections at the NMM and from other museums and private collections. The objects described in Volume 3 are generously illustrated, with numerous graphs, drawings, and more than 800 color photographs.
As with Volumes One and Two, audio files are also supplied on a DVD included with the book. The sound recording features demonstrations of select Utley Collection instruments played by well-known trumpeters Vince DiMartino, Jeff Stockham, and the late Don Johnson. One of the most comprehensive historic brass collections, numbering over 600 instruments, the Utley collection was amassed by the late Dr. Joe Utley, physician, musician, and Renaissance man. As part of his legacy, he and his wife Joella donated the instruments to the National Music Museum in 1999, while also arranging for the cataloging and curating of the instruments, as well as this dedicated and encyclopedic study by Dr. Klaus.
Also available:
Volume 1: Instruments of the Single Harmonic Series (2012) explores western and ethnic trumpets and bugles without slides, tone holes, keys or valves.
Volume 2: Ways to Expand the Harmonic Series (2013) presents the slide trumpet, the cornetto and serpent, the keyed trumpet, and the keyed bugle. 
Future volumes:
Volume 4:  Heyday of the Cornet explores the riches of cornet design and evolution.
Volume 5:  The Modern Trumpet discusses twentieth-century trumpet development.
---
We Also Recommend