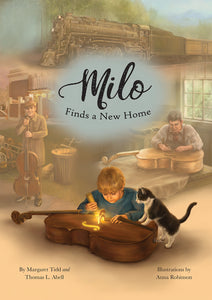 Book: Milo Finds a New Home
Milo Finds a New Home
by Thomas L. Abell and Margaret Tidd.
"Milo Finds a New Home," is the story of an old church bass given to a young boy who played it, loved it, and ultimately decided to share it with the world. "We wanted to convey to children that all the instruments in the National Music Museum have a story like this church bass," said Abell and Tidd, the book's authors.
The Story of the Prescott Church Bass
Once thought to be a cello, the church bass featured in this story was part of the musical instrument collection at the University of South Dakota Department of Music Abell's father, Usher Abell, arrived in Vermillion to begin teaching in 1946. Loving the cello's sound, the elder Abell used it as a teaching instrument in his classes through the years. When Usher retired from USD in 1976, he took the deaccessioned instrument to repair.
The old church bass found new purpose after Usher's grandson, Thomas U. Abell, learned to play it. A holiday gift from his grandparents, Barnes and Usher Abell, Thomas U. played the cello until 1999, when once again, repairs were needed.
The family then consulted with John Chiego, a Memphis Symphony bass player and chairman of the University of Memphis Music Department for repair advice. During the meeting, a label was discovered noting that the instrument was made by Abraham Prescott of Concord, New Hampshire. Chiego immediately recognized the significance of maker and said that the instrument, then thought to be a cello, was very old.
Through scholarly articles, André Larson at the NMM then helped Usher and his family properly identify their "cello" as a "church bass." It was decided that this special instrument should return home to USD and the NMM after the youngest Thomas was through playing it. In 2004, the instrument was once again retired, in need of further repair.
The book "Milo Finds a New Home" is 40 pages including text, illustrations and photo documentation of the bass' features, flaws and repairs. It is dedicated to former NMM trustee, Barnes Abell.
ISBN 979-8-218-05779-4
---
We Also Recommend