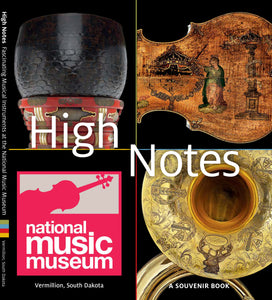 Book: High Notes Souvenir Book
High Notes: Fascinating Musical Instruments at the National Music Museum
A Souvenir Book
 In this colorful 80-page softcover book you will find some of the 'high notes' of the National Music Museum's collections. Sixty+ amazing musical instruments (out of 15,000 in the NMM holdings) are briefly described, along with a short history of this world-class institution.
 Like the NMM's collections overall, some of the musical instruments presented are fascinating for their incomparable sound quality, some for their extraordinary beauty or rarity, some for their unequalled craftsmanship and preeminent makers, some for their compelling cultural contexts or ownership histories, some for their materials and technical ingenuity, some for their associations with great performers. All are survivors, valued through time.
 Among the book's highlights—the NMM's stellar Stradivari and Amati stringed instruments, as well as the famed 'Neapolitan' harpsichord, Adolphe Sax masterworks, and much more.
 Founded in 1973, and originally called 'the Shrine to Music Museum,' the National Music Museum (NMM), in Vermillion, South Dakota, is one of the world's largest and most important collections of musical instruments—preserving many of the crown jewels of music history. Brimming with treasures, the NMM is a destination for musical-instrument lovers, a discovery and delight for everyone else.
 This High Notes book is another achievement of the National Music Museum's mission, to "Explore, enjoy, and preserve the world of musical instruments."
High Notes:
Fascinating Instruments at the National Music Museum, Vermillion, South Dakota
A Souvenir Book
Copyright 2018
National Music Museum
Vermillion, South Dakota
Editorial team:
Patricia L. Bornhofen
Margaret Downie Banks
Rodger Kelly
Sabine K. Klaus
Deborah Check Reeves
Arian Sheets
Michael Suing
 Photographers:
Tucker Densley
Dorling Kindersley Ltd
Tony Jones
Dara Lohnes-Davies
Spencer Lowell
Emanuele Marconi
Mark Olencki
Aaron Packard
Simon R. H. Spicer
Matthew Tolzmann
Bill Willroth Sr.
Published by 
National Music Museum
414 East Clark Street
Vermillion, South Dakota  57069              
www.nmmusd.org

 ISBN: 978-0-9848269-6-4
 Printed in Canada by Friesens
---
We Also Recommend