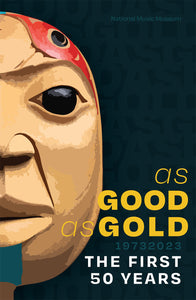 Book: As Good As Gold: The First 50 Years
As Good As Gold: The First 50 Years Exhibit Catalog
Since its official inception in 1973, the NMM has collected musical instruments and related materials spanning five centuries. That is 500 years of history, tradition, innovation, and music-making! "As Good as Gold" features some of the treasured instruments that shaped the NMM during its first 50 years of history, and explores how the museum's holdings have evolved from the founding collection to recent acquisitions.
Five exhibit themes highlight collection periods in the history of the NMM:
1.       "Filling the Gaps" describes the instruments obtained just after the donation of the founding Arne B. Larson collection. Several early woodwind instruments and a harpsichord collected during this time shows the NMM's intention to fill in the gaps in the European collection, particularly in the areas of 16th- to early 19th-century instruments. Included in this group are a 1793 basset horn from Prague; a ca. 1720 oboe from Amsterdam; an original Adolphe Sax tenor saxophone; and a 1659 Flemish harpsichord from Antwerp.
2.       "Once In A Lifetime" is the phrase used when the famed Witten Collection of early Italian stringed instruments became available in 1984, and NMM Director André P. Larson seized the opportunity to secure the collection – and museum's identity as a major cultural institution. Today known as the Witten-Rawlins Collection, the selection of instruments in this group includes the Amati "King" cello; a Stradivari violin and guitar; and the 1767 Antunes piano.
3.       "Crescendo" represents the period of growth between the 1980s and 2000s, as the museum homed in on strategic opportunities to collect. Instruments included from this era include a C. G. Conn saxophone exquisitely engraved by master Stenberg; a natural trumpet from Nuremberg workshop founder Haas; a Grenser clarinet and a Naust transverse flute, among the oldest European woodwinds presently at the NMM.
4.       "Utley and Bates" showcases the two major collections acquired at the turn of the century—the Joe R. and Joella F. Utley Collection of Brass Instruments (1999) and the Alan G. Bates Harmonica Collection (2000).
5.       "Fine-Tuning" represents the philosophy of sustainable collecting that the NMM adopted in the new century. The selection of instruments in this final group include one of the last well-documented Amati violins; a rare 16th-century English viola da gamba, and an even rarer 16th-century Italian polygonal virginal, both with well documented provenance history; and finally, a Native American rattle and drum from contemporary Indigenous artists.
----------------------
As Good As Gold: The First 50 Years, 1973–2023
ISBN 978-0-9848269-8-8
All rights reserved.  No part of this book may be reproduced or transmitted in any form or by any means without written permission from the publisher.
National Music Museum
414 East Clark St.
Vermillion, South Dakota 57069
Written by Ana Sofia Silva, MM
Foreword by Dwight Vaught, MM, MA
Edited by Deborah Check Reeves, DMA
Printed by Mixam Inc.
---
We Also Recommend