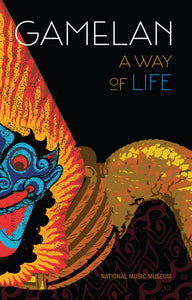 Book: Gamelan: A Way of Life!
Gamelan: A Way of Life Exhibit Catalog
"Gamelan: A Way of Life" will showcase the NMM's Javanese gamelan with family friendly text and activities and display – for the first time - eight newly acquired and spectacularly decorated flat leather shadow puppets that illustrate some of the main characters of the epic Ramayana. Shadow-puppet theater is a popular form of entertainment in Indonesia and uses gamelan to help communicate the story.
Originating in Indonesia centuries ago and varying by region, gamelan means "ensemble" and refers to a revered set of mostly percussion instruments, crafted and tuned to be played together. Themes to be explored in this special exhibit include: "Unity in Diversity," the motto of Indonesia, which indicates how the nearly 20,000 individual islands make up one country, a concept that is mirrored in the variety of gongs, pots, and metal and wood xylophones that make up one unified ensemble. A second theme, "Permanence and Impermanence," refers to values such as love, respect and honor, all reflected in the permanence of bronze, against such fleeting matters as money and possessions, represented by the impermanence of wood. The "Inevitable Gong" theme reveals how gamelan music is propelled toward the final gong just as our lives are driven toward an inevitable goal.
The National Music Museum's Javanese gamelan is one of the largest and finest outside of Indonesia. Radiant with gilding and teakwood frames adorned with carved dragons (nagas) and crowns, the Kyai Rengga Manis Everist Gamelan was ceremoniously named to honor its spiritual qualities and patronage. Purchase funds were a gift of Margaret Ann Everist, Sioux City, Iowa, 1999.
Gamelan! A Way of Life
© 2022 National Music Museum
NMM Inc. Publications
National Music Museum
414 East Clark St.
Vermillion, South Dakota 57069
All rights reserved.  No part of this book may be reproduced or transmitted in any form or by any means without written permission from the publisher.
Written by Deborah Check Reeves, DMA
Edited by Margaret Downie Banks, Ph.D
Design & Layout by Byron Pillow
Photography by Byron Pillow. Additional images –
p36 reproduced with permission © 2022 Eitan Simanor / Alamy Stock Photo
Printed by Mixam Inc.
Support for "Gamelan! A Way of Life" provided by a generous grant from the Clayton & Odessa Lang Ofstad Foundation
www.nmmusd.org
---
We Also Recommend