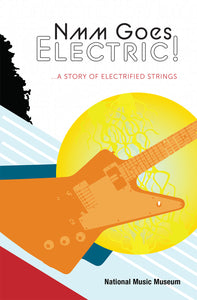 Book: NMM Goes Electric
NMM Goes Electric! Exhibit Catalog.
NMM Goes Electric! interprets the history of electric stringed instruments through objects from the National Music Museum's permanent collections, including many that have never been highlighted!
 This exhibit explores eight main themes. "Early Days" peers into the past with some of the earliest electric stringed instruments on the market, some of which had pivotal roles in the development of their types. "Going Low" focuses on electric basses, which posed their own challenges for electrification. "Eddie Peabody and the Banjoline" spotlights one of the most fascinating and successful virtuoso banjo players and the electric instruments he created with major American manufacturers. "The Classics" illuminates some of the NMM's most celebrated vintage electric guitars. "Towards East Asia" examines the gradual migration of electric guitar manufacturing eastward after WWII, including Japan, Vietnam, and China. "Behind the Iron Curtain" uncovers the little-known story of the Jolana company of Czechslovakia that produced electric guitars during the communist period and the Polish surf band Tajfuny who played them in the 1960s. "The Independents" shines light on the work of smaller American companies, some defunct, and others thriving. Finally, "Digital Revolution" blends computers with guitars, as MIDI technology challenges the definition of what really is a musical instrument.
NMM Inc. Publications National Music Museum 414 East Clark St. Vermillion, South Dakota 57069
Text by Arian Sheets, Dr. Margaret Downie Banks, Byron Pillow.
Photography, design, layout by Byron Pillow.
Published to accompany the special exhibition "NMM Goes Electric!" at the National Music Museum's Groves Gallery for Special Exhibitions, October 1 through December 13, 2021.
Support for "NMM Goes Electric!" provided by a grant from the Clayton & Odessa Lang Ofstad Foundation. All rights reserved.
No part of this book may be reproduced or transmitted in any form or by any means electronic or mechanical, including photocopying, recording or by any information storage and retrieval system without written permission from the publisher, except for inclusion of brief quotations in a review. Text, images, designs, and all other contents Copyright © 2021 by the National Music Museum; NMM Inc.,
---
We Also Recommend